Mid-life upgrade of class 72
Norske tog have entered into an agreement with Alstom for mid-life upgrade of the 20 year old class 72 trains. When the trains return, they will be both more modern and reliable, and ready for many more years of service.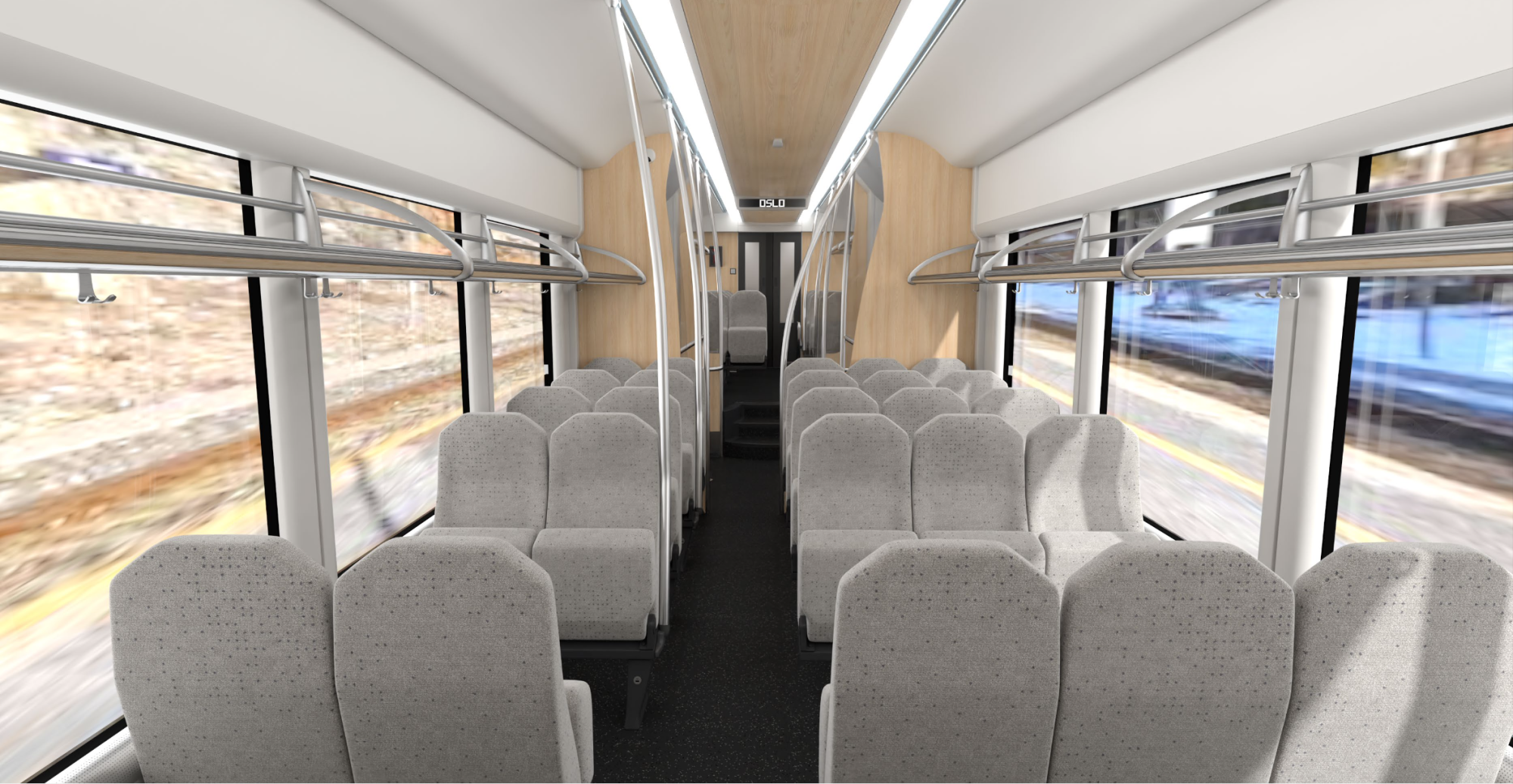 Illustration of the interior after the upgrade. Illustration: Alstom.
Project overview
The primary objective of the project is to give the class 72 train, which services as a local trains, a mid-life upgrade. 12 of the train sets are operated by Go Ahead on the Jær Line, and the remaining 24 trains are operating at L1 Lillestrøm - Spikkestad on behalf of Vy. The trains are produced between 2002-2006 by the Italian train produces AnsaldoBreda.
Alsom Transport AB won the contract for the mid-life upgrade, with an estimated total cost of 700 MNOK. The upgrade of the first train is conducted at Alstom's garage in Motala, Sweden. When the upgrade of the second train starts, the work will be moved to Alstom's garage at Väsetrås, Sweden.
The train will look brand new when they return form the upgrade with a Scandinavian look with light oak and grey textiles, in the same style as the new local trains. The train will also have new flooring, wall panelling, upholstery, and doors. In addition, there will be new information screens and an USB charger by each seat.
In addition to the visible upgrades, the carriages will also be checked for damage, batteries will be replaced, all cables will be checked, traction converters and auxiliary power converters will be overhauled, water tanks and filters will be cleaned, and passenger counters and safety cameras will be installed.

The result will be a major boon for both passengers and train operators.
Project status
To by to trains are beeing transferred to Alstom in Sweden for the upgrade. The work is progressing well, and the first upgraded train is expected to be put into service in Q4 2024. The last train to be upgraded is scheduled to be put into service in 2027.

Planned progress
2022: Started upgrade of the first train at Alstom's garage in Motala, Sweden.
2024: The first upgraded train are scheduled to be put into service at the Jær Line.
2027: The last upgraded train are put into service.