Reclined train travel
Wider lounge chairs with plenty of space for both arms and legs. Form next autumn, you are probably able to travel reclined with travelling with train between Oslo and Stavanger.
Sleeping carriages and lounge chairs on train have had a renaissance all over Europe – including in Norway. The government has reserved 50 MNOK in the Norwegian State Budget 2020 for rebuilding regular chairs to lounge chairs. Norske tog, who rents carriages to the passenger train operators, have been looking into different options over the last couple of months.
Now, the passenger train operators Go-Ahead, Vy Tog and SJ, needs to decide which solution they want. Go-Ahead is first in line. If everything goes according to the plan, you can most probably travel reclined when travelling on the The Sørland Railway next fall.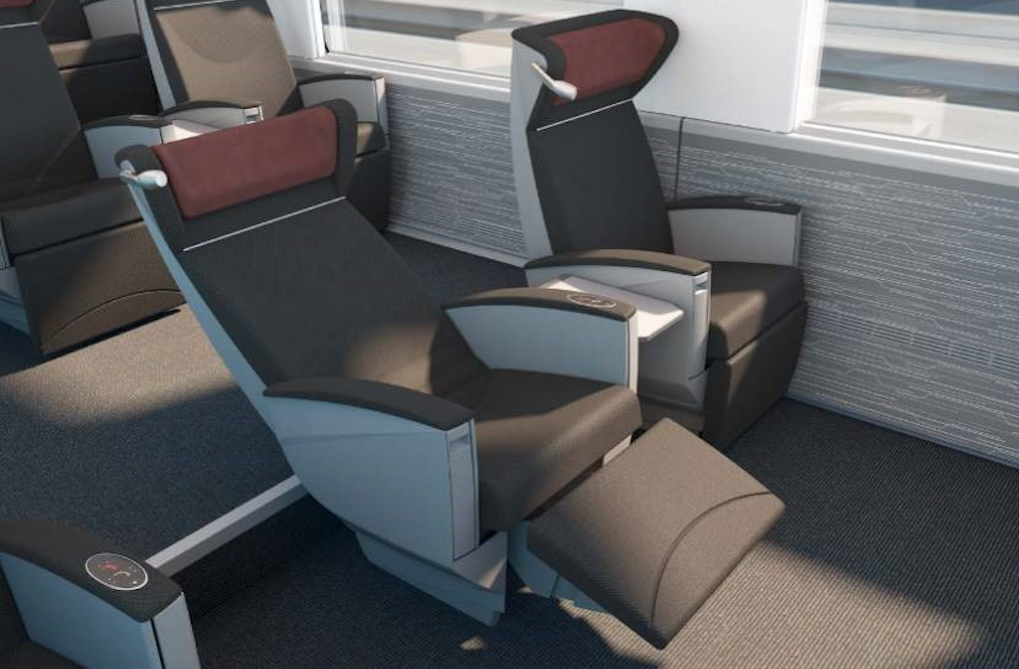 "Recliners" on the Sørland Railway
The passenger train operator Go-Ahead, who operates the Oslo-Kristiansand-Stavanger line, considers renting two carriages with 30 lounge chairs in each carriage – so called "recliners" – from Norske tog. Norske tog has entered a framework agreement with the Czech supplier Borcad. Go-Ahead will make a decision this fall. If everything goes according to the plan, the new carriages will be in service already in January/February 2022.
- The backrest of the Borcad chair can be reclined into 45 degrees and is wider than regular train chairs. With recliners it is only room for three chairs instead of four chairs, the most common set up today, said Rune Andreassen, Project Manager in Norske tog.
- It will be a new way to travel with trains, with higher comfort than the current standard we have on Norwegian trains today. These carriages will be similar to the first-class carriage commonly offered at trains in South of Europe, said Andreassen.
To be used all day long
Today, we have 20 Class WLAB2 sleeping carriages in Norway. Each sleeping carriage have 15 compartments with bunk beds – a total of 30 beds in each carriage. The carriages are used by the passenger train operators who operate on the lines Oslo-Trondheim, Trondheim-Bodø, Oslo-Bergen and Oslo-Stavanger. The sleeping carriages are only used during the night and is parked during daytime.
Train carriages with lounge chairs, recliners or flatbeds, can be used all day long, both during daytime and nighttime.
- A regular train carriage has room for 68 seats. A carriage with the type of recliners as Go-Ahead are considering, has room for 30 seats. Carriages with flatbeds – chairs that can be laid completely down – has room for 23-25 seats. A "flatbed"-seat can be laid down as a bed. It is little to no experience with flatbed-chairs in Europe. The flatbed concept is similar to the chairs offered by airlines in first class on long-haul flights, said Andreassen.
More expensive
The train operators choose the passenger ticket price for a recliner or a flatbed seat. Norske tog assumes that a recliner or a flatbed-seat will be priced somewhere between a regular seat and sleeping compartments.
Both Vy Tog, who operates the Oslo-Bergen line, and SJ, who operates the Oslo-Trondheim and Trondheim-Bobø lines, are considering flatbeds.
- We are currently negotiating with potential suppliers. Simultaneously, the operators are doing their own research. Hopefully, we are able to close a deal by the end of September 2020, said Andreassen.