BMb74
BPb74
BCMU74
BPa74
BMa74
192
Seats
9 folding seats
Class 74 is an electric motor coach consisting of five carriages with tranction on three of the carriages.
The train sets are produced by Stadler Bussnang in Switzerland and Poland. In total, 36 train sets have been produced and delivered from 2012 to 2016.
This train class is used as regional trains in the Eastern part of Norway.
Larger parts of the technical equipment is placed at the roof and inside the train to counteract potential winter issues, and for easier accessibility for maintenance.
The train sets are quiet in use, and has several spacious areas with low floors to be utilized when high capacity is needed.

---
Stadler AG 2012 - 2016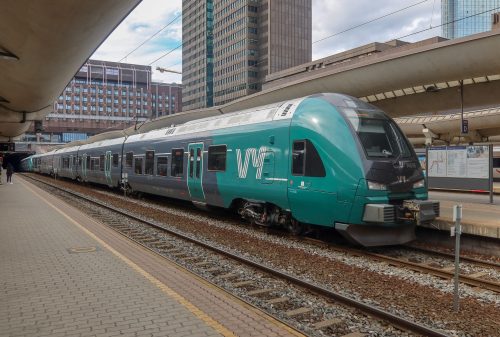 Facilities
Performance
Technicals specifications
Cars
Sist oppdatert 09.08.2023