BM73B
B73B
BMU73B
BFM73B
242
Seats
30 comfort/1st class
Class 73A is an electric motor coach consisting of four carriages, three of them with traction.

The train sets are produced by ADtranz at Strømmen Værksted in Norway. It has been delivered 6 train sets og class 73B for regional train standard.
A mid-life upgrade was conducted from 2014 to 2017.
This train class are servicing as regional train at the Østfold Railway and to Gothenburg.
The train sets are built with active heeling and secured pressure. Class 73 was the first mass-produced train type with heeling mechanism in Norway.


---
Strømmen Værksted/ADtranz 2001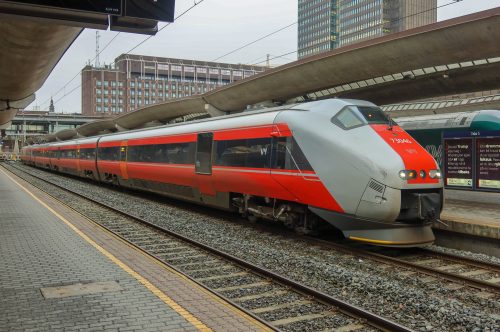 Facilities
Performance
Technicals specifications
| | |
| --- | --- |
| Comfort seats/1st class | 30 |
| Standard seats/2nd class | 212 |
| Standing spaces (folding seats in use) | 79 |
| Standing spaces (folding seats not in use) | 39 |
| Folding seats | 7 |
| Wheelchairs spaces | 1 |
| Wheelchair elevator | 0 |
| Bicycle spaces | Yes |
| Sleeping spaces | 0 |
| Sleeping compartments | 0 |
| Toilets (closed systems) | 5 |
| Toilet (open systems) | 0 |
| Handicap toilets | 1 |
| Family area, number of seats | 4 |
| Restaurant (number of seats) | 0 |
| Serviced kiosk | 0 |
| Vending machine | 6 |
| Information systems | Yes |
| WIFI | Yes |
| HVAC for passengers | Yes |
| APC | No |
| Security camera | 0 |
| Number of decks | Single |
| Driver's cab | Yes |
| Emergency break override | Yes |
| Heeling | Yes |
| Number of doors | 4 |
| Maximum door distance (platform-length) | 67000 mm |
| Overall door width | 4800 mm |
| Input stage hight | 700 mm |
| Lowest step | 700 mm |
| Inner width transition | 976 mm |
Cars
Sist oppdatert 13.02.2023