BMa72
BP72
BC72
BMb72
Class 72 is an electric motor coach with five carriages and traction on two carriage.
The train sets are produced by AnsaldoBreda in Italy. In total, 36 train sets were produced and delivered between 2002 and 2006.
The train class is used as commuter trains in the Eastern part of Norway and on the Nær Railway.
The train sets are designed by Pininfarina, has large windows og connected single-shaft running gear between the carriages. Class 72 was the first low-floor train class in Norway.
---
AnsaldoBreda 2002 - 2006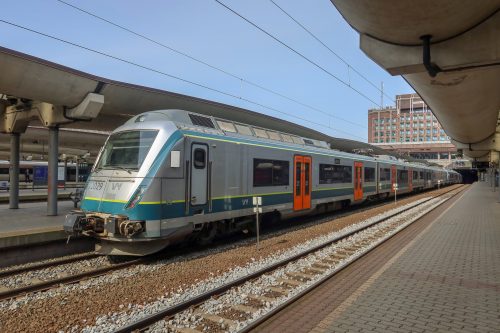 Facilities
Performance
Technicals specifications
| | |
| --- | --- |
| Comfort seats/1st class | 0 |
| Standard seats/2nd class | 305 |
| Standing spaces (folding seats in use) | 218 |
| Standing spaces (folding seats not in use) | 55 |
| Folding seats | 5 |
| Wheelchairs spaces | 1 |
| Wheelchair elevator | 0 |
| Bicycle spaces | 0 |
| Sleeping spaces | 0 |
| Sleeping compartments | 0 |
| Toilets (closed systems) | 1 |
| Toilet (open system) | 0 |
| Handicap toilets | 1 |
| Family area, number of seats | 0 |
| Restaurant (number of seats) | 0 |
| Serviced kiosk | 0 |
| Vending machine | 0 |
| Information systems | Yes |
| WIFI | No |
| HVAC for passengers | Yes |
| APC | No |
| Security camera | 42 |
| Number of decks | Single |
| Driver's cab | Yes |
| Emergency break override | Yes |
| Heeling | No |
| Number of doors | 8 |
| Maximum door distance (platform-length) | 67900 mm |
| Overall door width | 7600 mm |
| Input stage height | 750 mm |
| Lowest step | 750 mm |
| Inner width transition | 840 mm |
Cars
Sist oppdatert 13.02.2023