Norske Tog receives its 150th FLIRT train
This week, Norske Tog received the last of 150 FLIRT trains order from the Swiss train manufacturer Stadler. Øystein Risan, Norske Tog CEO describes it as "A successful train journey".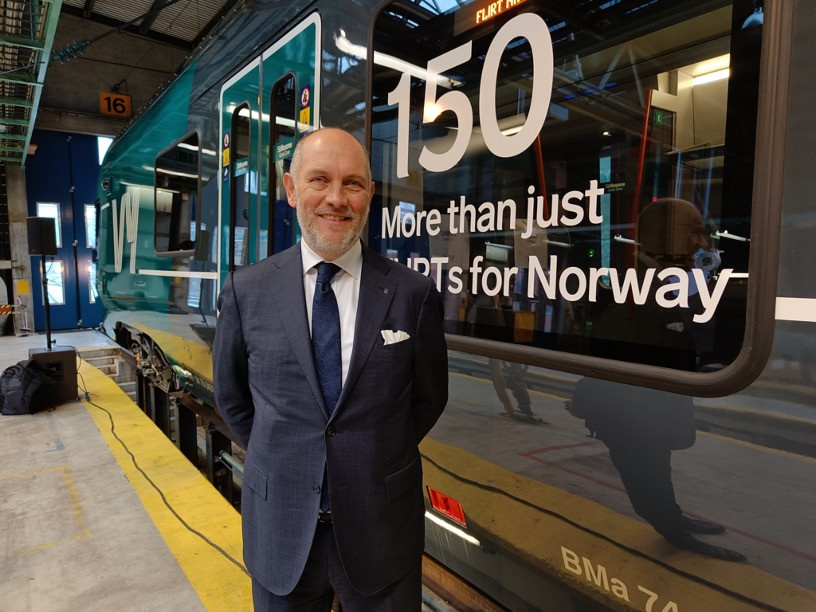 On Monday 21 November 2022, the delivery of the final train in the FLIRT procurement was celebrated at Mantena's Lodalen workshop. This procurement has been a success story from start to finish.

- The FLIRT trains are the backbone of the Norwegian railways. The trains are reliable and customers flock to them every time we introduce FLIRT trains onto new routes. For the past ten years, we've been confident that this is a great train, so this is a huge success, says Norske Tog CEO, Øystein Risan.
This sentiment is seconded by the Minister of Transport, Jon-Ivar Nygård, who was also present at the ceremony.
- The FLIRT trains have been a success, and will continue to be a success. Passengers like these trains and now we will work to ensure that they continue to like them by taking good care of the trains through rigorous maintenance, said the Minister of Transport during the ceremony on Monday.
«Everything has gone smoothly»
The agreement for the delivery of 150 FLIRT trains was signed by NSB and Stadler on 16 August 2008, and at the time it was the largest deal of its kind in Norwegian rail history.
- Everything has gone smoothly in this chapter of Norwegian railway history; the trains have been delivered on time, at the agreed price, and on the whole, the trains have ticked along like high-quality Swiss watches, says Risan.
Important contribution to a zero-emission railway
These new trains have primarily replaced old train sets in Eastern Norway, but are also currently in use on the Vosse Line and the Gjøvik Line.
As part of the agreement, Norske Tog has also received 15 bimodal FLIRT trains from Stadler. Bimodal trains can run on both electricity and diesel, and are thus important in getting closer to achieving the goal on a zero-emission railway. These bimodal trains entered service on Trønderbanen Line commuter services, on the Røros Line and on the Nordland line in 2021.
FLIRT trains have a top speed of 200 km/h, and a regular train set consists of five carriages with between 241 and 295 seats. The FLIRT trains are mainly manufactured in Switzerland and Poland.
Contact person