BMb75
BPb75
BCMU75
BPa75
BMa75
Class 75 is an electric motor coach with five carriages and traction on three of them. The train sets are produced by Stadler Bussnang in Switzerland and Poland. In total, 51 train sets have been produced and delivered from 2012 to 2017.
The train class is used as commuter trains in the Eastern part of Norway. A big part of the technical equipment is installed at the roof and inside the train to counteract potential winter issues, and for easier accessibility for maintenance.
The trains are quiet in service, and has several spacious areas with low floors to be utilized when high capacity is needed.
---
Stadler 2012 – 2017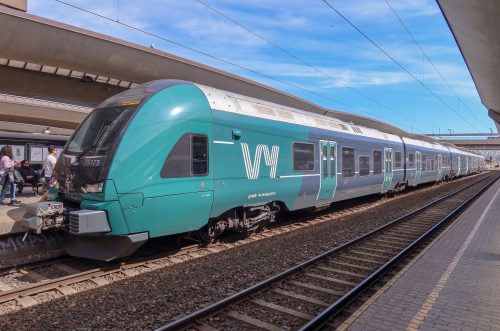 Facilities
Performance
Technicals specifications
| | |
| --- | --- |
| Comfort seats/first class | 0 |
| Standard seats/second class | 235 |
| Standing spaces (folding seats in use) | 266 |
| Standing spaces (folding seats not in use) | 83 |
| Folding seats | 60 |
| Wheelchairs spaces | 4 |
| Wheelchair elevator | 2 |
| Bicycle spaces | 5 |
| Sleeping spaces | 0 |
| Sleeping compartments | 0 |
| Toilets (closed systems) | 0 |
| Toilet (open systems) | 0 |
| Handicap toilets | 1 |
| Family area, number of seats | 0 |
| Restaurant (number of seats) | 0 |
| Serviced kiosk | 0 |
| Vending machine | 3 |
| Information systems | Yes |
| WIFI | Yes |
| HVAC for passengers | Yes |
| APC | Yes |
| Security camera | 33 |
| Number of decks | Single |
| Driver's cab | Yes |
| Emergency break override | Yes |
| Heeling | No |
Cars
Sist oppdatert 13.02.2023