BFM70
B70
B70
ABS70
230
Sitteplasser
30 komfort/1.klasse
Class 70 is an electric motor coach consisting of four carriages with traction on one of the carriages.
The train sets are produced by EB/ABB/ADtranz at Strømmen Værksted and in Duewag in Krefeld (the steering carriage series 1) and at Sundland verksted (steering carriage series 2).
In total, 16 trainsets, splitted on 3 series (9+3+4) were produces and delivered from 1992 to 1996.
The trainsets were upgraded with a new interior standard between 2000 and 2002.
The train class services as region trains in the Eastern part of Norway.
---
Strømmen Værksted/EB/ABB/ADtrans, Duewag and Sundland verksted 1992 - 1996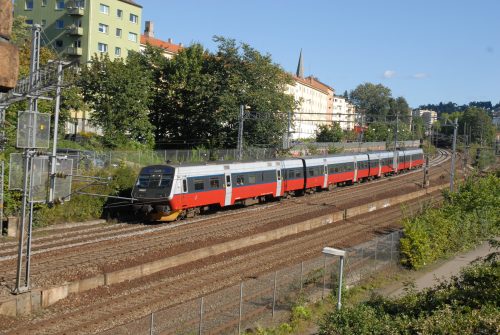 Facilities
Performance
Technicals specifications
| | |
| --- | --- |
| Sitteplasser komfort/1.klasse | 30 |
| Sitteplasser standard/2.klasse | 200 |
| Ståplasser, antall. Klappseter i bruk | 101 |
| Ståplassareal, klappseter ikke i bruk | 50 |
| Klappseter (folde og klapp) | 3 |
| Rullestolplasser | 1 |
| Rullestolheis | 0 |
| Sykkelplasser | 0 |
| Soveplasser | 0 |
| Sovekupeer | 0 |
| Toalett (lukket system) | 3 |
| Toalett (åpent system) | 0 |
| HC-toalett | 1 |
| Famileavdeling, antall plasser | 0 |
| Resturant (antall plasser) | 0 |
| Betjent kiosk | 0 |
| Automat | 4 |
| Informasjonssystem | Nei |
| WIFI | Ja |
| HVAC for passasjerer | Nei |
| APC | Nei |
| Trygghetskamera | 0 |
| Antall etasjer | Single |
| Førerrom | Ja |
| Overstyring av nødbrems | Ja |
| Krenging | Nei |
| Antall dører | 7 |
| Maks døravstand (plattform-lengde) | 78550 mm |
| Samlet dørbredde | 9800 mm |
| Høyde inngangstrinn | 700 mm |
| Laveste stigtrinn | 700 mm |
| Innvendig bredde overgang | 788 mm |
Cars
Sist oppdatert 13.02.2023