BMa
BPa
BC
XDe
BPb
BMb
241
Seats
Standard/2nd class
433
Standing spaces
4 people per m2
Class 76 is a bimodal multiple unit (BMU) which can can be powered either by electric power from the overhead lines or from four onboard diesel engines (and traction batteries) on non-electrified lines. The trainset consists of 6 cars, of which 2 cars have a traction system og one contains the 4 diesel engines.
The trainsets are manufactured by Stadler in Poland, Belarus, and Switzerland. In total, 14 bi-modal trainsets have been produced which are now servicing on the Trønder Line, the Røros Line, and the Nordland Line from 2021.
A big part of the technical equipment is placed on the roof and inside the train, in order to prevent winter-related issues and to improve accessibility for maintenance.
The trainsets have a low noise level, and are designed with a focus on universal accessibility. The large low-floor areas and the wide entrance doors ensure smooth and easy boarding and disembarking for all passengers, and large windows give excellent visibility.
The diesel engines are installed in a separate car which is well insulated against noise and vibration. Moreover, the design of the traction batteries with a capacity of 112 kWh contributes to effective operation as well as reduced energy consumption and local CO2 emissions on non-electrified train lines.
Last but not least, the Class 76 gives a three-fold increase in passenger capacity (seated and standing) compared to the old Class 92 trains that were servicing on the 3 northern lines before the arrival of the FLIRT BMU.
---
Stadler 2021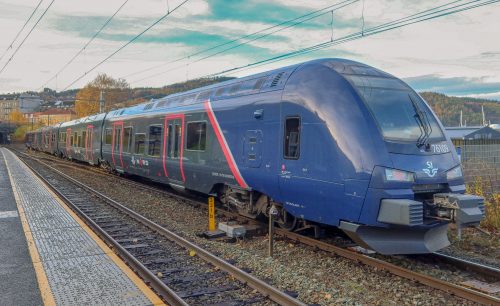 Facilities
Performance
Technicals specifications
| | |
| --- | --- |
| Seats (comfort/first class) | No |
| Seats (standard/second class) | 196 |
| Standing space area (m2), folding seats in use | 96 |
| Standing spaces (number, 4p/m2), folding seats not in use | 385 |
| Folding seats | 45 |
| Wheelchairs spaces | 4 |
| Wheelchair elevator | 2 |
| Bicycle spaces | 3 |
| Sleeping spaces | No |
| Sleeping compartments | No |
| Toilets (closed systems) | 2 |
| Toilet (open systems) | No |
| Handicap toilets | 1 |
| Family area, number of seats | No |
| Restaurant | No |
| Serviced kiosk | No |
| Vending machine | Yes |
| Information systems | Yes |
| WIFI | Yes |
| HVAC for passengers | Yes |
| APC | Yes |
| Security cam | Yes |
| Number of decks | 1 |
| Driver's cab | 2 |
| Emergency break override | Yes |
| Heeling | No |
Cars
Sist oppdatert 13.02.2023