BMa
196
Seats
Standard/2nd class
385
Standing spaces
4 people per m2
Class 76 is a bi-modal motor coach with five carriages and traction on two of them. The bi-modal train sets are powered by electric power on electrified lines, or by using an onboard diesel engine on non-electrified lines.
The train sets are produced by Stadler in Polen and Belarus. In total, 14 bi-modal train sets have been produced, and the trains sets have been servicing on the Trønder Line, the Røros Line, and the Nordland Line from 2021.
A big part of the technical equipment is placed on the roof and inside the train, to counteract winter-related issues and to make it easier to conduct maintenance.
The train sets are quiet, and larger parts of the floor has been lowered down for easy boarding and disembarking. In addition, the new trains have wide entrance doors and large windows and are thus well adapted in terms of universal design.
The capacity in the new train sets is almost doubled compared to Class 92 train sets, which are currently servicing on the Trønder Line. Class 92 trains can accommodate 143 seated passengers – the new bi-modal trains have room for 241 seated passengers.
---
Stadler 2021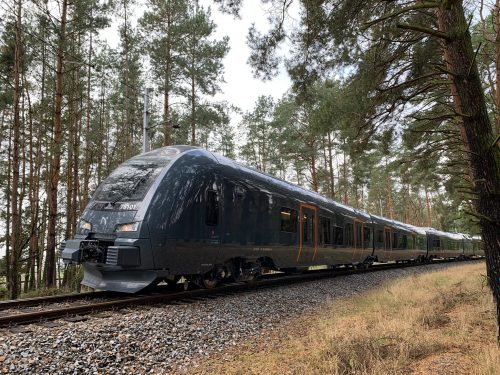 Facilities
Performance
Technicals specifications
| | |
| --- | --- |
| Seats (comfort/first class) | No |
| Seats (standard/second class) | 196 |
| Standing space area (m2), folding seats in use | 96 |
| Standing spaces (number, 4p/m2), folding seats not in use | 385 |
| Folding seats | 45 |
| Wheelchairs spaces | 4 |
| Wheelchair elevator | 2 |
| Bicycle spaces | 3 |
| Sleeping spaces | No |
| Sleeping compartments | No |
| Toilets (closed systems) | 2 |
| Toilet (open systems) | No |
| Handicap toilets | 1 |
| Family area, number of seats | No |
| Restaurant | No |
| Serviced kiosk | No |
| Vending machine | Yes |
| Information systems | Yes |
| WIFI | Yes |
| HVAC for passengers | Yes |
| APC | Yes |
| Security cam | Yes |
| Number of decks | 1 |
| Driver's cab | 2 |
| Emergency break override | Yes |
| Heeling | No |
Cars
Sist oppdatert 27.06.2022